Welcome to Hadar Designers!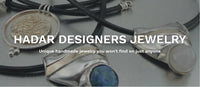 Hadar Designers is a family studio. 
Our style and designs are aiming to over 30+ years women who are looking to accessorize themselves with a unique style.
You don't want to miss our collections.
Enjoy – Michal.
You can always contact us
We are a truly family company and you can always feel welcome to call, write or WhatsApp us.
This online store and you as our customers are important to us and we want you to know that we are a touch away to any question, need and customized service.
As our jewelry are made to order and are handmade, all orders can take between 2-3 weeks
Email us at: hadar.designers1@gmail.com
Phone number: +972545595220